---
Welcome to our website. You will find lots of useful information about the yacht club and sailing resources for our local waters. We are based in Beaumaris,  Anglesey, North Wales.
Our 2021 Sailing Programme can now be found under Events.
For those more interested in 'virtual' sailing, please see here for details of Derek Lumb's Zoom Presentation:
An Introduction to Cruising the West Coast of Scotland
- Mull of Kintyre to Ardnamurchan Point
- Thursday 25th of February at 19.00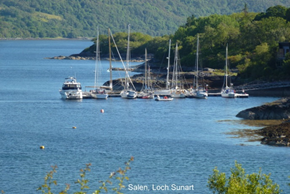 ** COVID-19 update. Please see under 'Events' for latest information on access to club. **
Where to find us

OUR YOUTUBE CHANNEL
NEWSLETTERS
The club publishes a quarterly newsletter - Venturers Newsletters
PBO News Feeds -
Electric powered boats on display at Green Tech Boat Show Plymouth

by

Robert Melotti

on 17th June 2021 at 1:21 pm

Broadblue catamarans, Pixii aluminium jet drive hulls, RS Electric boats, Plymouth ferry e-Voyager and more will grace the inaugural Green Tech Boat Show this weekendThe Pixii SP800 will be making its public debut at the MDL Green Tech Boat ShowIt's a truly electric line up of boats at MDL's Green Tech Boat Show, which opens its doors for the …Continue reading »

QuickTide: The £5 device that makes calculating tide times simple

by

Practical Boat Owner

on 17th June 2021 at 7:58 am

When you are on the sea, in any kind of boat, it's worth knowing a little about the tides for two reasons, writes champion kayaker Andrew MortonAndrew Morton is a world champion kayaker who explores Scotland with his Finnmaster 76CA motorboat – here he is racing on the River DeeIf you choose the tide correctly it'll help you on your way in a totally green way – free energy …Continue reading »
CONTACT US
Complete and submit the below form.